Hayden Homes Amphitheater | Bend, Oregon
The indie rock goddesses of Boygenius are finally embarking on their epic "The Tour" across North America this summer! OMG, you guys! The most amazing news ever! The highly anticipated tour is starting right after the trio finishes their epic Coachella performance this spring! Eeeek! OMG, their series of shows will be epic! The amazing girls of Boygenius are coming to Hayden Homes Amphitheater in Bend, Oregon on Sunday, July 30th, 2023! Eeeek, They're going to perform all their amazing hits, including their latest chart-topping singles like "Emily I'm Sorry," "True Blue," "Not Strong Enough," and OMG, can you believe it, "$20"?! I can't wait to sing along and dance my heart out! Not only is Boygenius performing, but we also get to see the amazing Carly Rae Jepson and Illuminati Hotties as supporting acts! Yasss! OMG, if you're obsessed with amazing indie rock jams like me, you absolutely HAVE to get your tickets ASAP before they're all gone! Like, seriously, don't even hesitate – just do it! 😍🎶🤘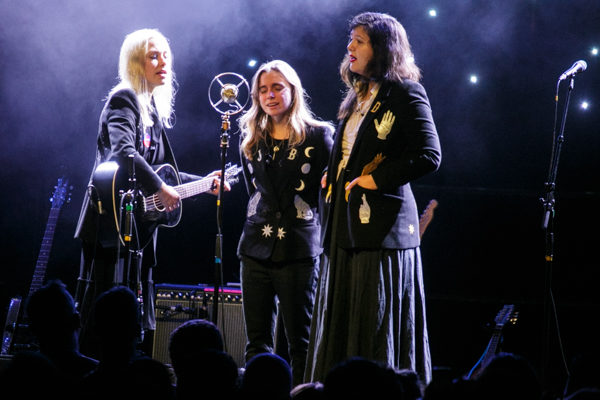 OMG, have you heard of boygenius?! They're like the coolest band ever! Julien Baker, Phoebe Bridgers, and Lucy Dacus are all part of it, and they're all so talented! I can't even handle it! They were running in similar circles and totally crushing on each other's music! And then, they decided to go on a co-headlining tour in 2018! The boygenius EP was written, recorded, and self-produced in just FOUR DAYS in early 2018! It got, like, sooooo much love from critics and music fans! It's seriously amazing! NPR Music totally recognized boygenius EP as the 12th best album of 2018! And get this, it's not even a full album, it's just an EP! But boygenius is so amazing, they totally deserve the recognition!
The group members have since been collaborating with each other non-stop from 2019 to 2022! Yasss, slay queens! The band was totally featured on Haley Williams' EP Petals for Armor II, and they even performed on each other's solo projects! Julien and Lucy were featured in Phoebe's Grammy-nominated "Punisher" album! It's seriously amazing! And, did you hear Phoebe and Lucy's amazing vocals on Julien's "Little Oblivions" album?! They were seriously on fire! And to top it off, Julien and Phoebe teamed up to sing in not one, but TWO singles from Lucy's "Home Video" album!
In March 2023, boygenius finally blessed us with their debut album, "The Record"! It's everything I could have ever dreamed of and more! It's received SO much critical acclaim! Like, everyone is just raving about it! NME gave it 5 stars and called "The Record" an "instant classic"! Yasss, this is everything I've been waiting for! The album got a score of 90/100 on Metacritic! Can you believe it?! And that's based on reviews from 17 critics! This is seriously the best news ever! OMG, did you hear what The Line of Best Fit said about "The Record"? They said it's the result of THREE artists working in PERFECT harmony! I can't even handle how amazing that is!
boygenius is going on tour again in early 2023, and they're coming right here to Bend, Oregon on July 30th! I can't wait to see them perform live again! You guys! The live concert will be absolutely epic because guess what?! Carly Rae Jepsen is going to make a special guest appearance! Eeeeeek! I can't even handle how amazing this is going to be!